Why I'm Hiking the Pacific Crest Trail
There are several questions I get asked when people find out I'm planning on thru-hiking the Pacific Crest Trail.
Are you really planning on doing the whole thing?
Do you have extensive backpacking experience?
Did you know there is a record level of snow in the Sierra this year?
Are you starting in Mexico or Canada?
Are you going alone?
Are you bringing bear spray?
Are you CRAZY?
Amongst all of these questions, the MOST common question I get is WHY.
It' a question I've asked myself daily since I've been planning this trek. Which began June 2016.
My most common answer is: I went to college, found my passion & got my degree. Then I moved out of state, did the 9-5 thing, paid my bills & was unsatisfied with the status quo. I was lucky to make some incredible friendships along the way (you know who you are) but that was the only thing I found really giving me joy on the daily and I wasn't okay with it.
My whole life I have been driven to travel. I feel that most people are. We humans want to go, see, touch & do. Instead of booking a trip to backpack Europe (which too would be dope) I decided to look around in my neck of the woods & see what was there to explore.
Unlike some hikers, I haven't had a dream since I was 12 years old to hike the PCT. I more or less decided that I wanted to do something, and the Pacific Crest Trail is what I picked.
When I moved home from my first real job (sorry parents, and thanks for letting me live at your house) I decided that my focus was going to shift from professional to personal.
I took a job at Shelter Cove Resort & Marina, located on the east side of Lake Odell in Oregon, and got to know a ton of PCT hikers that would stop at the lake on their journey to Canada. I asked them all kinds of questions about their time on the trail, about their gear and their well-being. I soaked up as much advice from them as I could, and I used this knowledge as a base to prepare for my own journey.
I read blogs, read Yogi's PCT handbook, did shake-downs with former hikers, tested my gear and now it's just about time to hit the trail.
I am hiking the PCT because I want to learn about myself. I want to test myself physically and mentally and hopefully come out stronger than I was before.
I want to learn how to be sure of myself and that the path that I'm taking in life is OKAY because it is what is making me happy and it's what I want for myself. I think spending six months on a trail will do just that.
---
Scout and Frodo's
What a day it has been!
After a sleepless night I arrived at Scout & Frodo's house around 2:30pm. Scout & Frodo are trail angels, who open their home from mid March to mid May every year. They host up to 50 hikers a night, feed them three meals a day, offer to do shak downs with hikers and mail home unnecessary gear and THEN carpool the hikers to the southern terminus every morning.
I have been so blessed to be in their home. Wonderful people, and the opportunity to bond with hikers prior to the trek really begins has been so valuable.
There are a ton of international hikers. Today, I met hikers from Australia, England and France. I am sleeping in my sleeping bag in a very large tent with six other hikers.
I did a shake down today with the peppas (his trail name) and he cut SEVEN POUNDS out of my base weight. For those that don't know, base weight is the weight of your pack minus food & water.
This is my third shake down, and definitely the most beneficial one. I have the items he recommended dropping by my sleeping bag tonight, so I can think on it one more time before Peppas ousts them to the post office for me tomorrow (yes, there are actually people here that are THAT kind).
We had a dinner that consisted of two kinds of pasta, salad and bread. For dessert we were served a chocolate cannoli cake. Delicious!!
Scout and I bonded over a passion for writing. He was a business lawyer before he retired, and has sense written several books. He and I agreed that it's wonderful that there is a career that will actually pay you to tell stories. We also bonded over the fact that the rate of pay in the field is far too low.
Breakfast tomorrow is served at 6am, and consists of French toast, eggs, oatmeal, juice, tea, coffee & I'm sure I missed something else. I'm ecstatic to start my journey tomorrow morning. I've never felt more ready!!
---
Day 1
What a day it was! I got dropped off at the border with the slew of 25 hikers who were ready to hit the trail.
The southern terminus is an interesting experience! Everyone huddles around to take pictures and then we kind of stood around looking at each other like "do we start walking?"
I began my walk with a girl named Bridget. She's 27, and from Australia. We kept up at about the same pace all day.
The first mile was a breeze. Up until about mile 6 was, actually. We'd hit the first six miles before noon.
It was hot. Super, duper hot. We stopped a few times to eat some electrolytes and soak up some shade. We reminded each other to drink water.
Around 1:15pm we decided to hop off trail and wait for the heat to sieze. After a nap I was feeling much better. My energy was restored after enduring the heat and we got to relax.
Mid day we found an awesome creek with plenty of water to refill our bottles. There was even enough water for us to take our shoes off and walk around! Let me tell ya, it was a wonderful experience.
After leaving the creek, we decided to head to Hauser Creek Campsite for the evening. It was about 5 miles ahead.
We passed a piles of rocks on our left when we heard a VERY loud hiss. We looked back and didn't see anything so we carried on, but we were both quite startled!
We made it to camp, and set up. We are cowboy camping tonight with another camper named Amelia. She's 18, and from Reno, Nevada.
So far things have been great! We have a tough ridge to start out the morning with tomorrow, and then we'll be at Lake Morena, the first stop. I hear they have milkshakes and a cafe. OH, and showers. Woohoo.
It's been a great day!
15.4 total miles
43,000 steps
198 floors climbed
---
Lake Morena
We started the day with a little oatmeal and filtering water at our campsite. Once we were ready to get on trail, it was about 8:30 a.m.
The ridge we climbed was rather steep, about 1,000 ft elevation, and the heat was a little killer this morning. Luckily it wasn't long before we hit Lake Morena, about five miles, actually.
Coming down the switchbacks I began to see a campground, populated with people and cars. Excitement grew inside me.
We were signaled over by a section hiker, I can't remember his name. Soon enough we found ourselves in a campground hosted by the Wolverines Group who were there to provide drinks, food and help to hikers.
Drinking my first sip of a free ice cold beer, I felt grateful.
We made our way to the store. There, I had the opportunity to wash my face, with soap! This was wonderful. The dirt from my hands fell into the sink and the water turned brown before it swirled down the drain. I was reminded how much dirt I was carrying with me every step.
We didn't end up buying food. Just some koolaide and checked things out. Bridget got a shakedown from one of the trail angels and I sat and watched with another hiker, who's trail name is Whisper.
Whisper earned that name while thru-hiking the Applachian Trail last year. She's 19.
We hung out at the Lake for a while. Really beating the heat! Refilled our waters at a fosset. I was grateful for clean water that I didn't have to filter.
Annnnd, around 3 p.m., we were back on trail. We crossed a couple rivers that were just big enough to have to take our shoes of for. This is more of a chore than you'd think, but having ample amounts of water is nothing to complain about.
We hit the popular campsite tonight around 6:30 we chatted with a guy named Jeff, 40, from Washington.
He's a wise soul and we had good conversation. We debated wether to camp there or not, and decided to make a couple more miles before the day was done.
The stars are beautiful tonight. My feet hurt a little more than they did yesterday. I'm excited for what tomorrow will bring.
Day two notes:
12 total miles
I'm not sure how many steps, my Fitbit died. I recharged it at the Lake, but it's still not accounting for about two miles. It reads 26,700 steps.
We saw TWO snakes today, none of them hissed at us. I had four tortillas with my breakfast casserole dinner. And three jolly ranchers to follow.
---
Sixty Miles In
Bridget and I are posted up just a few feet from the trail underneath her blue tarp, trying to make some shade, after today's first 11 miles.
Snapchat reports it's only 66 degrees outside, but I beg to differ.
The terrain has been filled with lush green plants and trees everywhere. The flowers have ranged from purples to blues, some white and some yellow. Just gorgeous.
Yesterday, Nirvana, another hiker, from Seattle, said he felt like he was walking in a garden, in awe of the raw beauty surrounding him.
We spent yesterday morning and early afternoon at Mount Laguna. The first real "stop" on the Pacific Crest Trail, about 42 miles in.
Mount Laguna has a sports supply store, a cafe, a post office and a small convienent store. Outside the sports supply store, there were three hiker boxes.
Hiker boxes are filled with gear other hikers ditch along their journey. But what is one mans trash is another's treasure. Bridget scored the blue tarp we are currently using as shade and a silk sleeping bag liner (this is a big deal… lol). I found a small Therma-Lite seat, to sit down on while we take our breaks on the trail. It provides some comfort and helps keep a little dirt off my bum.
After scouring the hiker boxes and grabbing a bite to eat at the cafe, we waited until noon for the post office to open. I had my first resupply package to pick up and Bridget sent her tent to Kennedy Meadows, the last stop before the Sierra.
Sooner than later, we were back on trail. We stopped again about five miles in, elevated our feet and met up with Nirvana and Rachel, another hiker from Seattle. We were sitting on the deck of a lookout point where several people stopped along their journey up the nearby highway. They asked us questions, shared their stories and wished us good luck. Just before we left, we met up with Jeff.
Back at Mount Laguna, Bridget named Jeff Roadshow. Last night, Jeff gave us our trail names. Soulshine is mine, and Sprite is Bridgets.
After leaving the lookout point, we hiked about five more miles to Pioneer Mail Picnic Area, a nice little campground that was equippt with a bathroom and water supply.
We set up our tents and hit the hay. Our goal today is to hike between 17-20 miles, so when we wake up tomorrow it'll be a short hike into Julian.
Julian not a "stop" on the PCT persay, but has free pie for PCT hikers at a restaurant called Ma's. Bridget and I daydreamed on trail today about Julian having a YMCA (where we could shower), a thrift shop (where we could buy a dress), and a winery all next door to each other. Wouldn't that just be wonderful?
However, Jesus, another hiker from Chicago who stopped and chatted with us on our lunch break, said there could be a brewery. I'll take it.
As far as how I'm feeling, my feet hurt, and blisters keep popping up. At Mount Laguna I invested in toe liner socks, and wrapped up my blisters. Since then, the preexisting blisters haven't gotten worse, just new ones have appeared. Doing my best to keep them clean.
My body isn't as sore as it was the first couple of days, and my skin in much more tan.
Couple of notes:
We are about 62 miles in. Hope to be around 70 tonight. Yesterday was our lowest day, hiking 10 miles.
I continually eat pasta out here. I'm not complaining. My JetBoil boils water FAST. Like seriously fast. And then it shakes back and fourth refusely until you turn the heat down. Still trying to scrape the burnt debris off the bottom of my stove. I call it character.
Last night was by far my warmest night. I doubled up on my clothes and finally am learning how to use my sleeping bag liner instead of kicking it to the very bottom of my sleeping bag.
I am happy. Sometimes I am very sweaty. I'm also pretty stinky by now and rather dirty, but I'm loving it out here!
---
Julian to Warner Springs
After leaving Mount Laguna our next stop was Julian, about 35 miles north.
Some friends of Bridget's that previously hiked the trail said it was their favorite trail town, PLUS they have free pie for hikers. How could we pass it up?!
Julian isn't exactly on the trail, about a 12 mile hitch. When we reached the junction, we were with another hiker, Mouse Trap, who brought his awesome PCT hitchhiker sign.

It only took us about ten minutes before a nice lady in a Prius offered to give us a ride. She played 50's music the whole time, and was eager to hear our stories. She reminded me of my Grandma Welma.

Once in Julian, we saw Carmen's Place across the street. Carmen is a trail angel. She owns a restaurant, however she closed it down for the day to be able to host hikers – all free of cost. Donations were accepted.
After being at her residence/restaurant for 30 minutes, I had enjoyed a mimosa and freshly made breakfast burrito. It was delicious!! The burrito even came with homemade salsa. Roadshow, Sprite & I were very happy.

We had foot baths, and were able to do our first load of laundry, which was invaluable.

There was about 30 hikers there at a time.
Rachel, the 20-year-old hiker from Seattle, and I ventured to Mom's to get our free slices of pie. After showing the cashier our PCT permits & ID, we had a selection of six different pies to choose from. I went with Bumbleberry, a mix of boysenberries, blueberries and blackberries. It was amazing. Never as good as my moms, though.
We spent some more time relaxing before getting back on trail. It was amazing to me the kindness Carmen offers hikers. She is a very happy lady, and functioned well in organized chaos. I was impressed and very grateful. The time we spent at Carmen's won't soon be forgotten.
We felt pretty good that night, and hiked another five miles, finding a spot in a valley for the night. Bridget cowboy camped, and I think I decided cowboy camping wasn't my thing. Just a little too cold for me. I was comfortable in my tent.
Yesterday, we aimed for a 20 mile day, and we did it! I was definitely hurtin by the end of it, and we stumbled into our camp spot at about 7pm. There was running water close by. That was magical.
We each had a rice/bean backpacker meal for dinner. And Bridget had an avocado we put on top! While eating dinner, I realized I wasn't feeling deprived of food on the trail at all. We snack a lot – nuts and seeds, dried fruit and granola bars – but having a full meal is always an option, as long as you take the time to make it, and clean up afterwards. Just like at home, I suppose.
Today we hiked into Warner Springs. Only about an eight mile hike. We got here early before the post office closed, Bridget and I had resupply packages to pick up. I had a surprise bottle of Jameson in mine, thanks dad!!
We had lunch at a nearby restaurant with some other hikers. The server wasn't too keen we were there, but we tried to be nice nonetheless. I ordered a bacon cheeseburger. And ate the whole thing.
The Warner Springs Community Center here really caters to hikers, offering showers with buckets, providing soap and water, and allowing us to handwash our clothes.
Anytime that you can shower/do laundry on trail, I'm in. The shower was especially nice today, finally getting to wash my hair and rub my scalp.. ahh.
We are planning on hiking out in about an hour, when the heat settles a bit.
Our next stop is Idyllwild, which we plan to be at by Wednesday. About 70 miles from here. I've heard the BEST things about Idyllwild. There is supposed to be a killer natural foods store, and plenty of little shops and cafes for entertainment.
My blisters have began to callus and I couldn't be more stoked!! If my feet didn't hurt, I'd be in pretty good shape. I wake up sore, but once I get going, I don't even notice it.
I am going to do a post pretty soon about what gear I ditched in the first week, so lookout for that! It's amazing what you think you need, when you really don't.
Just over 2,500 miles to Canada!
---
Idyllwild
I'd heard good things about a little mountain town called Idyllwild during my shakedown hike with Jake, a 2015 PCT thru-hiker, just two weeks before I left for California.
He said Idyllwild was an amazing little place and that when I got there, I should take my time and explore.
So when Sprite, Roadshow & I arrived, we took our first zero day.
Idyllwild has a backdrop of the San Jacinto Mountains. The population is 3,800, and everybody I met was very hiker-friendly.

The town streets are lined with thrift shops, wineries, chocolatiers and restaurants, all within walking distance of one another.
We spent our time relaxing at a cabin owned by Idyllwild Inn that my momma and Dave rented for us! We were so thankful. It was home for the night.
The Inn holds resupply boxes for hikers, and even lets hikers store there packs there while they meander around town.
Our cabin was #4.
The trim of the windows and door was painted green and yellow, a little touch from home. Go ducks!

The cabin had enough space for everyone to spread out. We also got to clean up in the shower and wash ALL of our clothes on site. The next day, we played at the park in the center of the campus, the first time I've sat on a teeter-totter in years.
A grocery store across the street supplied us with a bountiful salad that night that we enjoyed with pizza and some PBR's.
We were all exhausted, and after dinner, it was time for bed. Out here, 8pm is known as hiker midnight.
The next day, we took the Deer Springs trail out of Idyllwild to connect back to the PCT. we had quite the climb ahead of us, about 4,000 feet of gain in six miles.
The trail was so beautiful.
The waterfalls were stunning, complied with massive rocks and segways to the next fall. Sometimes I couldn't believe what I was seeing. The sights restored my energy after the uphill battle.

We hiked about 14 miles that day and set up camp early. Roadshow was so excited to be up in the mountains, a change of scenery from the desert. We slept in a campspot with the most incredible view. That night I sat on a ledge and watched the mountain in front of me change to eight different shades of purple with the sunset. Just incredible.
The next day we planned for a 20-mile day. This day consisted of the most downhill I've ever done, dropping from about 9,000 ft to 1,300 feet. Tough on the joints, but I'd prefer downhill to uphill most times, because you're not losing your breath and less stops are necessary. We jetted down the mountain and made it to a spot under a bridge by about 4pm.
Under the bridge we found a trail angel supplying a styrofoam cooler with soda and beer, all surrounded by ice. It was lovely. There was also fresh (and filtered) water, snacks and garbage cans. It's nice after a few days of hiking to empty your "garbage bag", because carrying the weight of wrappers is actually a thing. Lol.
He told us about a trail angel, Hillbilly, who would be happy to host hikers that night. We took him up on his offer.

It was Cinco De Mayo, and Hillbilly made fajitas for the crew. We also got to shower, do laundry and we ended the night with a superman movie.
Hillbilly is quite the collector of things. In every room he had collections ranging from toy cars to stuffed animals. He was such a character, and I think really enjoyed having hikers over. We were so grateful for his kindness.
The next morning, we were on our way to Big Bear when a storm decided to show up.

Getting pulled back and forth by the wind on the ridge of a mountain is no joke! We hiked that day with a couple other hikers, their trail names are Beetroot and Afrikool (long story). We made it about 12 miles to the Whitewater Preserve, and decided to wait out the storm there. Since we were there by noon, we had plenty of time to explore.
The day we were at the Preserve probably goes for my favorite day on trail. It was BEAUTIFUL. I can't even put into words this place. It's like you're walking into a resort, with palm trees and a beautiful river surrounded with white sand. We spent our time throwing rocks into the river, bird watching and laughing for hours. I hope one day to return to this spot.

We also saw our first rattlesnake at the Preserve! Sprite shot this photo.

That night was a windy one, but we made it through! I can't remember how many miles we had till Big Bear at that point, but we were on the go. The day we got into Big Bear we completed 20 miles by 2pm! We were pretty stoked about that.
When we got into Big Bear, Papa Smurf (a well known trail angel in the area) picked us up at the trailhead and took us to town. We stayed that night at a Travelodge with some other hikers, and looked forward to the free continental breakfast the next day. It was delicious, I might have taken some pasteries with me for the following days.
We checked out, went and grabbed lunch and made our way around town. We stopped at a candy store (if you know me, you know I LOVE candy), outfitter and a couple natural foods stores. It's so nice to be able to wander around an unknown town without a schedule. Just exploring, here and there.
Around 5pm we resupplied at the local grocery store and hitched back out to the trailhead. The lady who gave us a ride was awesome, and said she only gives rides to hikers if they text their parents and let them know they're okay. We were her third set of hikers she picked up that day. When she dropped us off, she picked up another few hikers who were waiting for a ride in town, even though she had yoga in 15 minutes. It's incredible the amount of people who dedicate their time to helping hikers. We are SO appreciative.
We camped last night with several other hikers, just two miles from the trailhead. Our second night with a fire to keep us warm, and this time with marshmallows to roast.
I woke up in the middle of the night not feeling to hot. I decided I needed to head back to Big Bear to take a day off. Roadshow and Sprite came with me to make sure I was okay. I'm sitting now in a hotel bed feeling pretty under the weather, but I'll be back out there as soon as I can. Hopefully tomorrow.
A couple things I've learned on trail:
This adventure is almost like a long vacation. Except, your putting in hours of hard work, hopefully work that you enjoy. You spend countless nights under the stars and look at breathtaking views on the daily. BUT, life still happens out here, just like it does in society. You get sick, your debit card gets used fraudulently, the Post Office doesn't ship your box on time, get shin splints, etc. But the trail has really helped me decide how to react to such situations. You can't control what happens in life, you can only control how you react to it, and what you're going to do next. When you're out here with limited options, keeping a level head is key.
Another thing the trail has helped me with is restoring faith in humanity. I heard this a lot from former hikers at REI classes I took before I left for the trail, but seriously, the amount of time, money and kindness regular people dedicate to help hikers is INCREDIBLE. Most times, people are doing this for FREE. But another way the trail has helped me restore faith in humanity is by the friends I've made. As soon as Roadshow and Sprite found out I was sick, they made the choice to head back to town with me, even though I'd be in bed all day. I've only known these people for a short time, but their kindness and generosity makes me feel so much better. Even with a high fever. I'm truly grateful.
Hopefully we'll hit the trail tomorrow. Our next stop is Wrightwood, 363 miles in. Getting closer and closer to the Sierra everyday. Everyone keep your fingers crossed for a big snow melt! We need it!
---
Deep Creek Hot Springs

(This picture doesn't do the creek justice. I meant to take so many photos, but didn't seem to take my phone with me anywhere. I was completely in the moment in this incredible spot. I snapped this photo just before exiting the area, heading back on trail.)
Two days after leaving Big Bear, we'd hiked 35 miles, arriving at Deep Creek Hot Springs around 5 p.m.
We'd been anticipating this place for about a week. We'd heard the hot springs were hot and it was an unforgettable spot. We dropped our things, and headed for the Anniversary pool, the first pool that was built years ago on the premises.
There are a total of four hot pools at Deep Creek. Three of them are lined in a row at the top of the springs, and the other, the Arizona pool, is in the middle of the oasis, usually filled with hikers and hippies enjoying their time.
It's easy to slip and fall while transferring from pool to pool at the springs. But every pool offers a new scenery of the creek, you have to experience them all.
Deep Creek is also filled with plenty of water that isn't too cold for swimming. There is a tightrope, a rope swing and plenty of squirrels ready to eat all of your food. We spent plenty of time shooing them away, and they still got to my whole wheat bagels.

The places seemed to have so many stories carved into it's history. Roadshow said it was rumored to be an old hippie hangout of Janis Joplin, Jimi Hendrix and others. We also heard there was a six-mile trail that led to Charles Manson's ranch. Whether or not these things are true, it was fun to imagine the history that could've occurred at the spot I was so captivated in.
We could see all kinds of magic in the springs. From different jewels carved into the pools (again, I wish I took a picture), to purple painted hand prints on the boulders, the place was full of life. That night we spent our time checking out different faces  we saw in the rocks surrounding the creek.
When we woke up the next day we were taking our time. We all cowboy camped, and when we woke up we joked about how it felt like a Sunday. I think it was actually Monday.
After eating breakfast, which consisted of a Mountain House breakfast combo thing, we still couldn't seem to get out of our sleeping bags.
So we took a zero day.
We spent our day lounging in the pools, exploring the terrain and tending to camp chores. Because there was so much water around, we did dishes, washed some socks and hydrated.
Part of the trip that I'm learning to really love is the lack of schedule. There are things to consider, such as your water/food supply and what direction the trail is, but having the ability to do what you want, when you want, feels like freedom.
Roadshow had been to Deep Creek before, and said he knew it to be a common hangout for snakes.
When Sprite ventured over to the south side of the creek, we heard a shriek.
Roadshow turned to me and guessed Sprite encountered a snake.
He was right.
(Bridget (Sprite) took this photo)
We saw two different rattlesnakes that looked just like this one. It was interesting being so close to a rattlesnake. I was definitely scared, but I never felt threatened.
Sprite shot some good photos, and we watched momma squirrels carry their babies to the other side of the creek in a hurry. The squirrels would take turns waving their tales in front of the snake to give other squirrels in the area a warning signal. They did this for a couple of hours, until the snakes moved on, I assume.
What a tough life for the squirrels. It was interesting to see the community the squirrels had to navigate away from the snakes and keep their babies safe.
Deep Creek was a tough place to leave. I can see how a local to the area could get wrapped up in the enchantment and never leave. Hippy Dave, one of the people we met at Deep Creek, said some hikers that left the day before we arrived had been there for nine days.
But just as life goes, I'm sure there will be another spot just as charming as Deep Creek just up the trail. It's only a matter of time.
The next morning we hit the trail pretty early. Our next stop on the map: McDonalds, in El Cajon, 35 miles ahead. The night before we got here, we stayed on a beach on Lake Silverwood. Beautiful lake, we hiked around it for about 12 miles.
On the stretch from Deep Creek to Cajon Pass we didn't see many hikers. It was abnormal. Usually we pass groups of hikers all throughout the day, most commonly around water sources or good break spots.
When we reached the trail head signaling McDonald's was .4 miles ahead, a thick fog and heavy wind had been coming in. We were grateful to be in town, and decided to stay at the Best Western across the freeway.
Cajon Pass has a McDonald's, Del Taco, Subway, hotel and gas station. As tiny as it gets! But we filled our bellies, did our laundry and showered.
It's back to the trail in a couple hours.
---
One Month (and five days) In

Thirty-six days ago I stood at the Pacific Crest Trail southern terminus with one direction to go, forward.
Since then, I've walked 454 miles up the West Coast. In 248 miles, the desert section ends, and the Sierra section begins.
Most of the desert hasn't been what I pictured, some sections are full of water, and lots of lush green plants. We've been hiking mostly in the high desert.
Today I'm at Hiker Heaven, a trail angels home in Agua Dulce, and when I return to the trail I'll drop to the desert floor, where hotter days and less shade will be in store.
We had our first summit last week at Mount Baden-Powell, just about 9,400 feet. I was a little dehydrated that day and could feel the elevation. Sprite and I dropped our packs just before the summit (which isn't actually on trail) and joked about our bodies feeling like jello while making the final climb to the top.
The first couple weeks of the trail were very surreal to me. Similar to when you plan for what you hope will be an extravagant vacation. You get to the airport, go through the motions of printing out your ticket, board the plane and soon enough, arrive at your destination.
I vividly remember the drive to the terminus. It seemed like it took forever. There were dusty desert mountains to stare at outside the window, a distraction that mildly calmed my nerves.
We stopped at a rest stop just before the trailhead. I remembered thinking this was my last opportunity to use a toilet for a while. Things were about to change, but I was ready for it.
A little over a month in, I'm certain that this experience will be the best thing I've done with my life thus far. Scout, who hosted me and 26 other hikers the night before I started the trail said it best: "the trail provides a community that I always wanted to be apart of but never knew existed."
I think about a lot of different things out here. I think about what I want to do with my life in the future, where I want to travel to next, the relationships I have with my friends and family and how important it is for me to maintain those bonds in the coming years, and I'm often thinking about what I'm going to eat next (I've always loved to think about food).
I remember my mom asking me once why I was hiking the trail, and I remember telling her because I didn't want to be angry when I grow up. Crazy to think I'm 25, and most people already consider that pretty grown up.
What I meant by that response was that I wanted to get to know myself better, and get to know the world that I live in a little bit better. I don't want to grow up and be bitter because of the pressures in society that I feel like I'm constantly facing. The pressures to feel adequate to your peers, wondering if I'm doing what a typical 25-year old should be doing.
Since I've been on trail I've learned that everyone's path to happiness is different, but also very much the same. Everyone sets up camp at night, and everyone packs up in the morning. Everyone smells like hamburgers, is covered from head to toe in dirt and has the gnarliest boogers.
But the streams of thoughts running through every hikers mind is different.
While on trail, I've learned how to be thankful for my friends that wait up for me because I'm last person to pack up camp instead of wondering if I'm irritating them.
I've taken off the mask of makeup that I cover my face with every day, and now when I look in the mirror, I see the most raw version of who I am.
I'm working on training my mind to constantly see beauty in every situation, instead of succumbing to a tainted state of frustration when tragedy strikes.
Day by day, mile by mile, I know I'm becoming who I am supposed to be out here. I am so grateful that the PCT will be a chapter in the story of my life.
Today is a zero day, but tomorrow, I'll put one foot in front of the other with one direction to go, forward. I can barely wait to see what's just up ahead.
---
Almost Out of the Sierra
My tired feet made the transition from the dusty trail to the hard black pavement.
Just before reaching the 3/4 mile road walk into Kennedy Meadows, Sprite and I celebrated the end of the longest, and arguably most grueling section by jumping into the Kern River – in over 100 degree weather – with all of our clothes on.
Kennedy Meadows is a real milestone for PCT hikers. At this point, we've walked 702 miles. This is also the last stop before the Sierra section.
When you walk up to the general store, all the hikers and patrons clap for you. It's a moment that's hard to describe, because it comes by such surprise. My eyes grew teary and my heart grew warmer. I was proud of myself, and thrilled that the Southern California desert was behind me.
While prepping for the trail, the dumping of snow in the Sierra Nevadas this year was undoubtedly the most popular topic for trail skeptics.
Rightfully so, the Sierra Nevadas have never received more snow than they have this year – over 200 percent more than normal.
The first sight of snow was a special moment for me. I remember vaguely seeing mountains off in the distance, thinking to myself, I'm about to climb this shit. Let's do it. And I had the biggest smile on my face.
Walking out of Kennedy Meadows the terrain starts to change. Mountains get taller, rivers start to appear. The love I had for this section began to blossom.
I fell in love with this section because the sights were magnificent. Unlike anything I'd ever seen.
Yogi, a triple crown hiker and PCT guru, told me in Kennedy Meadows that the Sierra section was hikers reward for finishing the desert.
I couldn't agree with her more.
I was overwhelmed by this new adventure, and enlightened by what was up ahead.
The group I was hiking with was solid. We supported & encouraged each other. I felt safe with them and was so grateful to have met these beautiful souls.
But just when you think you've got it figured out – everything can change.
The first pass we went up was Forester Pass. It's the highest point on the PCT, 13,200 ft. Just two days before Forester, we summited Mount Whitney, the tallest mountain in the lower 48 states – 14,500 ft.
Forester was my first love in the Sierra. This was the first time I'd ever hiked up a pass, and the first time I'd hiked with an ice axe in hand and microspikes on my feet. Although I was terrified, I was confident.
The group I was hiking Forester with was overwhelmingly supportive of each other. We were waiting for each other at the top, guiding those to the best foot holes and reiterating how to self-arrest in case of a misstep.
When we got to the top, we celebrated with hugs and high fives. It was a wonderful feeling of accomplishment. But just as a first love ends, I was excited to see what else was out there.
After Forester, we hiked Kearsage Pass, 11,700 feet, to get into Bishop, our next town stop. Kearsage was steep, and sometimes we had no idea where we were headed.
We were hiking the Pacific Crest general direction as Nirvana would say – because the trail was covered in snow.
The trek was filled with gorgeous alpine lakes and plenty of snow. Any moments of frustration were quickly curbed by the stunning scenery.
Once we made it into Bishop, I exited the trail for two weeks. This was planned, not sparatic. Every year I help with a journalism camp hosted at Stanford University. After the camp was over, I spent a wonderful four days with my momma in San Francisco.
It was strange to be off trail, and overwhelming to be in a big city after such solace in the wilderness. I enjoyed every moment spent with my momma and at camp, but it was safe to say I was ready to be back on trail, but by now my trail family was far ahead.
So, I had a decision to make. I could jump up and meet my friends, but that meant skipping a section. I could flip the trail and meet friends who skipped the Sierra all together to hike later once the snow has really melted.
Or I could get back on where I left off, and keep my fingers crossed I'd make new friends. The only problem is, when you're camping at over 10,000 feet on the regular, climbing passes and fording streams daily, this section shouldn't be hiked alone, in my opinion.
At the last second, Roadshow decided to jump back into the Sierra with me where we left off. The two of us began the trek back over Kearsage. This time, I had a 54 pound pack – far too much food than I needed, but better safe than sorry, right?
That day, we hiked Kearsage Pass and Glenn Pass. Altitude sickness hit me early on and I felt like I wasn't in the shape I was in when I got off trail. That two weeks really took a toll. The heavy pack didn't help.
Roadshow and I didn't have a similar hiking pace. He was much faster than me and I spent a lot of time solo hiking.
The love I had for the Sierra began to dwindle as I spent time inside my own head. I became frustrated often and questioned what the hell I was even doing. Am I trying to prove something by being out here? Who am I trying to prove it to, and why? We're the questions that ran through my mind all day.
I missed the supportive network I had before getting off trail and wondered if it would be worth it to skip a section and meet my friends. I struggled with my own independence. I wanted to be content being solo in the Sierra, but I craved the comrodery, and mostly the encouragement.
I also didn't feel safe hiking solo. There were several white water crossings, snow bridges to cross, not to even mention the passes.
But just as the trail goes – you keep moving forward.
The next day I crossed Pinchot Pass, 12,100 feet. This pass was steep, but not terrifying. I was growing more comfortable with my level of confidence in the snow, but tried not to be naive that anything could happen.
After Pinchot, Roadshow and I hiked to the base of Mather Pass. This was the last of the most difficult passes in the Sierra section, other hikers said.
We only had 700 feet left to climb that next morning, piece of cake, we thought.
While I was traversing up the pass, Roadshow was at the top tackling the rock scramble. I had my ice axe in hand and my spikes on. With every step I stabbed my axe into the snow beside me. One step at a time I repeatedly said to myself. When I was about two-thirds of the way across, the next step was wider than what I was used to. I picked up my foot and tried to place it in the foot hole, but I missed.
My body began sliding down the snow covered pass. With every inch that I slid, I was absolutly terrified.
I remember reciting in my head "you know how to do this and you need to do it right now." (In this quote I am referring to self-arresting with my ice axe)
I turn my axe as quickly as I can and try to stab the blade into the snow, but I miss.
Still sliding down the side of the mountain, I try again, this time I turn the blade sharper and stronger. There wasn't any time for error.
Like a dagger, the axe stuck into the snow. There I was, about 20 feet down from the foot holes, hanging on the side of a pass. I wanted to cry and cry and cry, but I just didn't have the time. Solution first, reaction after.
After a few deep breaths, I dug my microspikes into the snow beneath my feet and one by one made a new footpath up the mountain. With every step I stabbed my axe into the snow and lifted my body up.
My axe completely supported me. Once I got the hang of what I was doing, I was confident I had the tool I needed in my hand.
When I made it safely to the rocks, I was trembling. My body was shaking and my jaw felt numb. I couldn't process what had just happened, and I just started to cry. This experience was undoubtedly the most terrifying moments of my life, but I made it.
I dropped my pack and took a breather. I had a tough rock scramble to go before I could reach the top, but nothing could stop me now.
Mather Pass broke my heart, but I got over it.
Later that day, I reconnected with a group that I had crossed paths with a couple times on trail. We camped together for the first time that night, and I was excited about becoming a party of a new trail family.
We stayed up that night, cooking dinner and talking about the passes we just crossed. Woodchuck had her own terrifying experience on Mather, where she stepped into a void on the mountain and ended up waist deep in snow. I wasn't there for this, but we bonded over our separate experiences.
The next day we hiked to a lake where we would take a ferry the next day to Vermilion Valley Resort. A well earned zero day was in store.
This group is filled with incredible people. Rooster and Woodchuck, former AT hikers going for their triple crown after their wedding in the coming year, are from New York.
Happy baby, who I spend a lot of time hiking with, is from Chicago.
Yaya, a nurse who lives 20 minutes from my hometown (crazy, right?), is from Colorado.
Cosmo, is also from Colorado.
Hash Hero, who could hike 40 miles on the daily, is from Utah.
And Lani, a former school counselor is from Los Angeles.
I couldn't be happier to be a part of this new trail family. The trail truly provides.
Since Mather Pass, the passes have become a lot easier. The climb can still be brutal, but the snow has lessened tremendously.
Mileage has picked up, and the goal of getting to Canada has never been clearer.
This section doesn't offer as much emotional refelection as the section before, because so much of my time is spent on focusing on survival.
Yesterday, we crossed 900 miles. N about 150 miles, we'll be out of the Sierra section and onto Northern California.
But I have learned, and am learning every day what I am capable of. One step at a time, I'll keep moving forward.
---
Flippity Flop
The direction I've been traveling on the Pacific Crest Trail recently went from Northbound to Southbound.
When we got to Shasta, we found out that fires in Northern California wouldn't allow us to cross the state line into Oregon.
This was so disheartening. I'd been looking forward to that milestone for hundreds of miles! About 1500 miles – to be exact.
In addition to the fires in NorCal, fires in Oregon have closed areas of the trail in the Three Sisters Wilderness, Jefferson Wilderness and Cascade Locks area. The most recent closure includes the Oregon/Washington border. (Keeping our fingers crossed we will get to cross at least one state line)
If I chose to continue hiking North, I would either have to hitchhike around the fire closures, or complete miles and miles of road walking (seriously – like 120 miles of walking on hard black pavement). Not quite the same as being out in the wild wild wilderness, ya feel? Which is arguably the entire reason thru-hikers choose to, ya know, thru-hike.
A lot of the time, when there are fire closures, or closures for any reason, there are alternate routes hikers can take to still have a fluid footprint from Mexico to Canada. Some hikers have chose to hike the Oregon Coast Trail in lieu of the Pacific Crest Trail Oregon section, so they still walk across Oregon. Some hikers have found other alternates that add several miles to their journey. Whatever that journey is, hiking your own hike and doing what makes your soul happy is all that matters.
As far as road walking goes, the smoke in these areas is so detrimental to hikers, the PCTA advises hikers to hitch around the closed zones, because walking on the road doesn't necessarily mean it's any better for your lungs than walking on the trail would be. Some still chose to put their road walkin shoes on and make the trek – and good for them!
We chose to flip up to Harts Pass, which is 30 miles south of the Canadian border, and hope that by some miracle these fires are out by the time we reach Oregon.
Harts Pass is the closest point to the Canadian border in the state of Washington that's accessible by vehicles. SO, our trail angel, who's name is Matt, braved the highest dirt road in Washington to get us there. THANK YOU MATT!
We got to Harts Pass, hiked 30 miles north, touched the Canadian border, took some photos at the Northern Terminus, then turned around and hiked the same 30 miles south, beginning our hike back down to Shasta.
We hikers call this an in-and-out, or an out-and-back hike. Either way, we hiked 30 "extra" miles to be able to touch Canadian soil. Good thing Washington is STUNNING!
Flipping the trail was a tough call. I'd been looking forward to hiking in my home state for hundreds of miles. I was making plans with friends and family to meet at different stops and I was SO excited to see some beautiful souls I miss dearly.
I also realllllly (I can't stress this enough) wanted to finish the trail at the Northern Terminus. As excited as I was to cross into Oregon, crossing into Canada after hiking 2650 miles, and finally seeing the Northern Terminus was what I fantasized about the most.
As much as the reasons to continue going North stood with me, the idea of cutting out so much trail and hitching around the closures – which would've been what I would personally do with the closures – was the standing in the forefront of my thoughts.
Skipping so many miles is tough to stomach for thru-hikers who are enthusiastic about completing the entire trail. Especially sections with such promising beauty! Although I'm from Oregon, I haven't hiked through most PCT sections in the state and I'm so excited to experience what the hype is about.
Sooo flipping up to Harts Pass and southbounding the remainder of my hike gave me the best shot at completing the most possible PCT miles this year.
Our road trip started after we got a ride from a trail angel to Ashland. I'd been anticipating getting to Ashland for a long time, because my cousin lives there and we had plans to meet up.
Although I was days ahead of my original plan to get to Ashland, cousin Taylor rolled with the punches and was such an amazing trail angel to us!
We went out to a brewery for dinner, then another brewery for, uh, more beer, and ended the night with good conversation in cozy blankets. Taylor let us do our laundry, shower (without a time limit and plenty of shampoo/soap 😆) and we had so much fun just visiting and catching up. As the years pass I never get to spend enough time with this girl. I'm excited to hike back through Ashland and do it all over again! Love you so much Cuz.
Also in Ashland, I got to meet up with one of my most favorite people ever, Lauren Killgore! She was my dormmate in college, and someone who's soul I just know and trust. We seem to find our way back to each other in some of life's most important moments. I think that's how our friendship will always be.
The next morning we had a few complications with renting a car – adulting is so hard – but thanks to the help of my amazing family we worked it out and were on our way to Albany, my hometown, where we'd stay the night before heading to Seattle the next day.
Pulling up to my mommas driveway was just like every time before, but this time I just couldn't wait to run inside and hug my mom and stepdad. It'd felt like ages since I'd seen them!
Just after I pulled up, my best friend Kelsey Martinez did, too. AND she brought my favorite humans to walk the earth with her – her beautiful babies Mason and Blake! Gah I am so in love with them. It was AMAZING to see and spend time with Kels and the kids – I seriously love you guys SO dang much. When I'm home, we'll get back to the usual routine of having breakfast/lunch/dinner together every day. Can't wait!!
At my mommas, we spent a little time organizing our belongings and starting some more laundry before we headed over to my dads house, who was hosting a BBQ for me and my hiker friends.
This was my first time seeing my dads new house, as he closed on it just before I left for the trail. When I walked inside, Tammy, his girlfriend, had printed AND framed a photo my hiking group took just the day before in front of the Oregon state monument on the freeway. Because we didn't get to see the state line on trail – we settled with the monument on the freeway. Seeing the photo printed and framed made us all feel at home and so welcomed – I loved that she did that. It meant a lot to me and my friends. We all signed the frame with a sharpie, a memory I will have forever.
Also at my dads was my best friend Lindsey Graham – who is a badass and HAS to hike the trail one year. Thank you for driving all the way from Eugene, and then back again just to see me. You are the BEST.
We visited, drank my dads delicious home-brewed beer, went over our trail names and feasted on ribs and barbecued chicken.
Later, we satisfied our sweet tooth with cake, cookies and lemon bars – I am so blessed to have the wonderful family that I do.
The next day we were back on the road, and headed to Seattle. We made one more pit stop in Portland to shop at Patagonia and dine at Deschutes Brewery. I got to see another best friend from when I lived in Eugene – Devyn, who joined us for dinner and drinks. Dev & I have a very special friendship and one I will literally cherish for all of my days – it was so refreshing to see you, and I'm so thankful you dropped all your plans to meet me spur of the moment in downtown Portland.
It never seems like you have enough time with your loved ones – but getting to see my friends & family gave me so much fulfillment – the fulfillment I was hoping for while I was passing through Oregon. Leaving the state, I felt satisfied, and like I was making the right decision.
Today I'm in Stehekin, Washington waiting for the Post Office to open at 10 a.m. after taking an unexpected zero day yesterday because we didn't anticipate the Post Office closure for the Labor Day holiday.
I'm surrounded by about 15 hikers who are in the same boat as me. Yesterday, we did laundry, showered (it was such a great shower! Only $1 for five minutes AND there was a ton of super great smelling soap) and relaxed.
Stehekin sits on Chelan Lake and has a population of less than 300. Because of the holiday weekend, it was busier than normal.
The town has a restaurant, lodge, Visitor Center, post office and a wonderful bakery where I sat yesterday and began writing this blog – while enjoying a turkey sandwich and green salad. Mmmm, veggies.
Sometimes being in towns makes me anxious. Even in a town as small as Stehekin.
Some interactions consist of lots of questions about the trail & congratulatory conversations. People definitely think you're a superhero for hiking so many miles. Others are awkward, like when you're using the sole bathroom sink in the one public restroom to clean your stove for the first time in a week, and someone needs to, uh, wash their hands.
I worry a bit about what it'll be like living in society again. Instead of being surrounded by nature, you're surrounded by humans, concrete and advertisements.
I spend so much time on the trail thinking about every aspect of my life – my family, friends, passions, love, etc. and I share these thoughts and ideas with other hikers, and we bond over similarities and differences. We spend all day sharing stories and making memories, and it's been the best thing I've done with my life.
I'm not sure people do that so much in society, it's more of the hustle and bustle of daily life that takes over in towns. And that's okay. Maybe people don't want to talk to you, and don't care to hear about your day – they just met you, they're stressed out, late to work, bored or uninterested in what you have to say. And that really is okay. We're all just humans – out here living the best life that we can.
But it'll be a bit of an adjustment. Just like hiking your own hike, I suppose you have to live your own life. But I'm not back in society just yet – so we'll see how that goes when I get there.
---
How I Leaned to Adjust to Post-Trail Life
This article originally appeared on The Trek, which you can read here.
A deep breath of the crisp fresh air filled my lungs, and I opened my eyes. It was still dark out, and there were snow patches surrounding me. My feet were aching, my legs and body sore, but I was warm, and I was happy. I knew I'd be ascending up Pinchot Pass that morning. I had four miles and 2,800 feet of gain to hike.
I packed my sleeping bag and tent in the bottom of my pack and stacked all my other gear on top. I put my spandex shorts and hiking shirt on, braided my hair and tied my Altras. It was go time.
Once I took off, I realized the extra food and gear on back was taking a toll on my chipper mood. I was in the longest stretch of the Sierra section: 90 miles from Kearsarge Pass to Vermillion Valley Resort.  After about a mile, I started to feel sluggish. The elevation was getting to me, and I was stressed that the next few miles would be worse. So I weighed my options.
Maybe I'd filter some water. Maybe I'd snack on a Clif Bar. Maybe I wouldn't do anything at all, I'd just take a break, lay out my sleeping pad and nap.
But I trekked on, and before I knew it, I was at the top of the pass, gazing at the snowy Sierra Nevadas. It was serene and silent up there, and I felt lucky to be able to gaze at this remote section of the world.
[divider]
Fast forward to three months later, home from the trail.
I'm waking up in a bed. My body isn't nearly as achy. I'm not dirty, and I'm not smelly. I have laundered clothes dressing my body. A full kitchen just feet from my bedroom. My phone is next to me, fully charged.
I think about how I miss waking up to the forest. I look up to see my PCT hiker bandana framing my mirror. When I got back from the trail, I folded it so the only part I'd see is the part that reads "HIKER TO TRAIL." My constant reminder to get back out there.
A gleam of light is being let in from my window, but the four walls surrounding me began to feel suffocating, and the newfound freedom I found on trail feels like it's being stripped away.
I lack motivation to get out of bed. I'm not hungry. I feel drained. Something's wrong, but I couldn't put my finger on it. I ignore the thoughts and get out of bed, it's just morning moodiness, right?
I get dressed, ate a banana, start my car, put on some tunes, and head to the gym. The car in front of me is going too slow. I forgot my water bottle. My phone buzzes from a message from one of my friends, and all these sounds and distractions make me irritable.
After the gym, I head to the gas station. There's a long line, and I get stuck in my head again, wondering what I am going to do with my day. I should probably get a job soon.
But the idea of a 9 to 5 job is even more daunting than the suffocating feeling of being surrounded by four walls at home.
It's finally my turn.
"Fill it with regular," I say to the attendant.
"Debit or credit?"
"Debit," I reply.
Driving back home, I think about how ungenuine that human interaction was. I should've asked him how his day was going. Or would that be weird?
I get home, make a protein smoothie, and scroll through social media.
An hour later, I find my thumb in the same position it was an hour ago, still scrolling.
What do I want to do today? I ask myself again.
[divider]
While I was on the trail I felt capable. I loved having a numeric mileage goal every day, and I loved the big-picture goal of getting to Canada.
I was also releasing an insane amount of endorphins.
Endorphins are chemicals that interact with receptors in brain cells that help relieve pain and control emotion. Endorphins decrease fatigue, and provide athletes with an euphoric rush for an extended period of time.
When I got back from the trail I went back to the gym and kept up with running, but my decreased level of physical activity led to a huge drop in endorphin release, and it took a toll on my mental state. The feel-good neurochemicals that were being released were replaced with feelings of sadness and stress.
I went from being in the best shape of my life, meeting new people constantly, and accomplishing goals daily, to being broke, jobless, and confused.
My backdrops changed from mountains, rivers and sunsets to concrete buildings, cars, and convenience stores. I had all of this energy with nowhere to put it. It drove me insane. I felt aimless and purposeless.
The exposure to a different lifestyle was awakening. And when I got back from the trail, I felt like I had all this energy, and nowhere to put it. Being back in the real world felt aimless and purposeless, and trying to find a solution felt paralyzing. I wanted to be free again. I wanted to run in the forest and play with my friends. I wanted to continue jumping in rivers and climbing up passes every day. To have deep conversations with hikers I'd just met about humanity.
And I couldn't do that anymore, and I just didn't know what to do with myself because of it. I was restless, I was frustrated and I felt alone. I didn't talk much about it. I put myself in my own mental prison, and it felt impossible to get out.
I was mad this was the world I lived in, and that this is the society that we humans have created. I wondered why I felt so weird to ask the guy at the gas station how his day was. Is genuine conversation so lost that we question ourselves to ask how someone's day is?
[divider]
So here's what I did. Here's what helped me.
First and foremost, I began being public about the struggles I was facing. That was one of the biggest difficulties for me to overcome post-trail, but I also think the trail is the reason I now have the confidence to do so.
I take time to write about what is going on in my head and process it. And when I'm ready, I share it with friends, family and post it to social media.
The responses I got from my friends, and some people I've never met, has literally given me life.
Being able to connect with others who share the same struggles has made me feel like I am not alone. For me, that is extremely important.
With this, I had to overcome the fear of what people would think about me being so open about my emotions. Specifically people from my hometown, who knew me before I was hiker/emotional Alex.
That was hard, and that's still hard. But at the end of the day, if anybody doesn't want to see what I post, they don't have to. I have to remind myself constantly that if someone doesn't want to see what I post, they have the freedom not to.
I've also progressed my hobby of running races. Before the trail, I'd ran in a couple of races, and one of the first things I did post-trail was sign up for my first marathon.
It gave me a goal to look forward to, and I reminded myself of that goal every day—especially when I was training.
Setting this goal gave me something to look forward to. It helped me fill my calendar with activities, and forced me believe in myself again. Racing also helped me connect with other runners that I found through social media, as well as people from my home town who I'd always looked up to.
Being able to chat with them about something we are both passionate about is so much more fun than talking about whatever town drama is going on at the time.
Some days when I was feeling really low, and just didn't know how to fill my time, I would go do a simple task like grocery shopping and try to connect with someone about their day.
On trail, I'd rarely walk past another hiker that I didn't say hi to. Sometimes the conversations would be short and sweet, and others were long and deep.
I loved having both of these type of interactions, and when I came back to society I lost that because people just aren't as interested in talking to others about their thoughts and emotions. I am. So I had to find people like me, in the world that I live in.
It didn't always work. Sometimes I'd go to the grocery store and chat with the checker. Sometimes they'd want to talk to me, and sometimes they didn't. But hey, I tried, right? Maybe it'll be better next time. And, surprisingly, it usually was.
I also began to make moves for myself, based on what I wanted to do, simply because I wanted to do so, and realized that WAS good enough.
When I got back from the trail I felt bogged down by the pressure to get a "real" job – but if I was certain of anything, it was that I knew that is NOT what I wanted to do. Eventually, I decided what I wanted was to travel. No matter how I was going to do it, I made it my number one priority.
I realized that not every trip I go on is going to be glorious and life changing, but as long as I was exploring a different neck of the woods in the world, I would be happy.
Above all, I think I began to accept who I am in the world that I live in. I loved who I was on trail, and when I got back from the trail it was easy to feel like I wasn't the same person I was the last five months. But I was, and it just took me realizing and accepting that.
One step at a time, I'm still hiking my own hike.
---
The PCT Desert, Myth vs. Fact
This blog originally appeared on The Trek .
Most Pacific Crest Trail thru-hikers begin their journey in the desert — the first steps on the trail that they'll be walking on for the next five months. The desert is one of the most frequent places hikers leave the PCT, and if you're worried about what to expect in this great sandy expanse, here's my list of myths vs. facts regarding the first 700 miles of the PCT. Hopefully this gives you a better idea of what you're getting yourself into.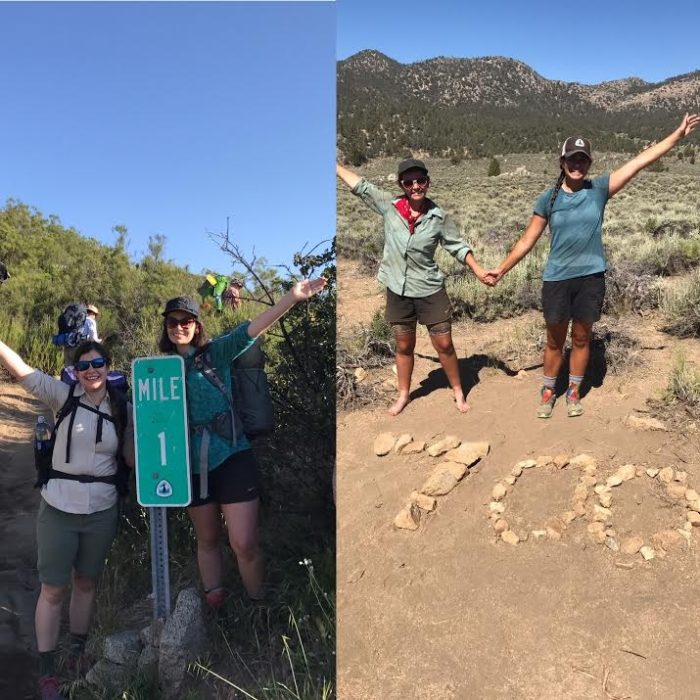 [divider]
Facts
The water tastes bad
Compared to other sections of the trail, the water is undoubtedly the worst tasting in the desert. You'll often find yourself getting water from sketchy sources. By "sketchy" I mean sources that smell terrible, are ill-colored, or just seem plain dirty. But your thirst for water is at an all-time high in the desert, so it's likely you'll fill up your SmartWater bottles at any source you come to.
Tip: I learned early on to use Mio Liquid Water Enhancer. There are a variety of flavors, so you're sure to find one you like. I stuck with flavors that had B Vitamins and electrolytes, but that's up to you. You'll find other ways to flavor your water as well, some of my other favorites were Crystal Light Pink Lemonade and Peach Tea.
[divider]
It's likely you'll get sick at least once
The most common place I saw hikers get sick on trail was in the desert. Norovirus was abound on the PCT in 2017, and I didn't just get it once, but twice. It was miserable, moreso the second time because it took my immune system longer to recover.
There is no surefire way to prevent getting sick on trail, but I always made sure to hike with Emergen-C. It contains 1000 mg of Vitamin-C, has B Vitamins, electrolytes and zinc, all which will help boost your immune system and give you energy without a crash. If you get sick, hopefully you're close to town, so you can sweat it out (literally) in a hotel, with the AC on. To help prevent getting sick, try to avoid sharing drinks and food. This is hard on the trail, because everyone shares everything, but when you do share snacks, ask hikers to pour out their portion instead of dipping their hands in. When meeting a new hiker, try the first-bump instead of a handshake. It's not as awkward as you think.
[divider]
Your hiking schedule will be different in the desert
You'll likely wake up early, stop around 11am, and not start hiking again until about 4pm or later due to the brutal desert heat. Find a nice shady spot to sit underneath, rest your feet, and eat all the food. Just realize that the shade you're sitting under moves with the clock, so you're going to have to find a new spot soon. It's a bummer. You'll get used to it.

[divider]
Myths
You won't have enough water
Fact: There is enough water to go around, you just need to plan carefully. I always had at least four SmartWater bottles on hand, and a 1L bladder in case of a heavy water carry. My longest carry was supposed to be 40 miles, but I was pleasantly surprised to find a large water cache at a dirt road 20 miles in. ( A water cache is a surprise spot  where trail angels leave jugs of water for hikers.) When you get to a cache, only take what you need, and leave the rest for the hikers behind you. It's common courtesy.
It's normal to stress about water in the desert, but it never became a serious concern during my hike. I planned accordingly and made sure my bottles were filled up when they needed to be, and took advantage of every water source along the way, no matter how far I had to walk to find it. Yes, several water sources can be three miles (or more) off trail. If you have to fill up before camp, and won't reach another water source until the next day, make sure you plan enough water for your dinner.
[divider]
You won't see anything green
Fact: I was pleasantly surprised by the lush green plants I was often surrounded by. Some areas consist of sand, rocks and dirt, but oftentimes you'll be hiking through Ironwood trees, tall Yucca plants, and beautiful Ocotillo plants. This makes for beautiful scenery and shady spots.
[divider]
You'll be hiking in solitude
Fact: One of my family's biggest worries was that I would be hiking in solitude.What would happen if I got hurt? Had an emotional breakdown? Got bitten by a snake? One thing I can assure hikers who start from late April to May is that there will be SO many other people around. I only camped alone once this year, in Washington, by choice. You WILL be surrounded by other hikers who are in the same emotional state as you. Talk to them, they want to talk to you, too.
[divider]
You'll get bitten by a rattlesnake
Fact: Although I did see several rattlesnakes on trail—yes I was shaken by their presence—I never felt threatened. The snakes I saw were more scared of me than I was of them (they even told me so). Another hiker on trail told me rattlesnakes have a rattle for a reason—they want to warn you before they strike, and they are likely to save their venom for a rodent that they can eat, instead of wasting it on a human.
[divider]
No one actually packs out their toilet paper
Fact: Everyone I knew on trail packed out their toilet paper. I am ashamed to say that before hiking the PCT, I didn't. Get used to it. Have a darker colored Ziplock for this purpose, so you don't have to see the yucky toilet paper every day when you take out the bag. The Ziplock doesn't make your pack smell, and you only make contact with it when you are doing your business, or throwing it away in town. Also, the desert ground is particularly hard, so burying toilet paper doesn't work anyway.
[divider]
Bonus Desert Beta
-If you're staying at Scout and Frodo's, take advantage of doing a shakedown before you leave. Cutting weight in your pack helps make the hike more enjoyable.
-The sunsets in the desert are stellar. Get excited, you get a front row seat.
-It's common to replace a core gear item in the first 700 miles of the trail. For me, it was my sleeping bag and sleeping pad. Budget for this adjustment, you never know what you really need until you are out there.
-Learn how to use your cookset before you leave. I had no experience using my JetBoil before I hit the trail, and the bottom of my stove is forever charred because of it.
-Take the time to dip your feet in water when you cross a stream. Many water sources in the desert aren't large enough to do this, so when you find one that is, it's quite an enjoyable experience.
-Blisters popped up the most for me in the desert, while my feet were still building calluses. I learned to pop them, thentape them using Leukotape. It's 100000x better than duct tape.
-Gaiters help keep sand/rocks out of your shoes, but they aren't necessary. I'm loyal to Dirty Girl Gaiters, but you do you.
-Don't stress over getting a trail name. Everyone wants one, you aren't alone. You'll get yours soon enough, and remember if you don't like the first one given to you, you don't have to take it.
-Take pictures of your new friends, and they'll return the favor. We all want to document this epic journey.
-Try packing out produce. Idyllwild, Big Bear, Wrightwood, Agua Dulce, Tehachapi, and Lake Isabella have ample resupply locations to find produce, and I was so thankful for it. Produce can be heavy, but I think it's worth it. Also try vegan sausages. They last FOREVER and are delicious.
-Give cowboy camping a go, you'll thank me later.
---
Remembering How the Trail Provides
This blog originally appeared on The Trek. 
I had my first "moment" on trail today.
A little background: on trail I go by Soulshine. Last year I hiked two-thirds of the Pacific Crest Trail, and this year I'm back to finish it up. I'm from Oregon, 26, and a woman.
Back to the story.
I started the day off with a pretty easy six miles. I hiked through thick lava rocks that weren't easy on the feet, but it was mostly flat.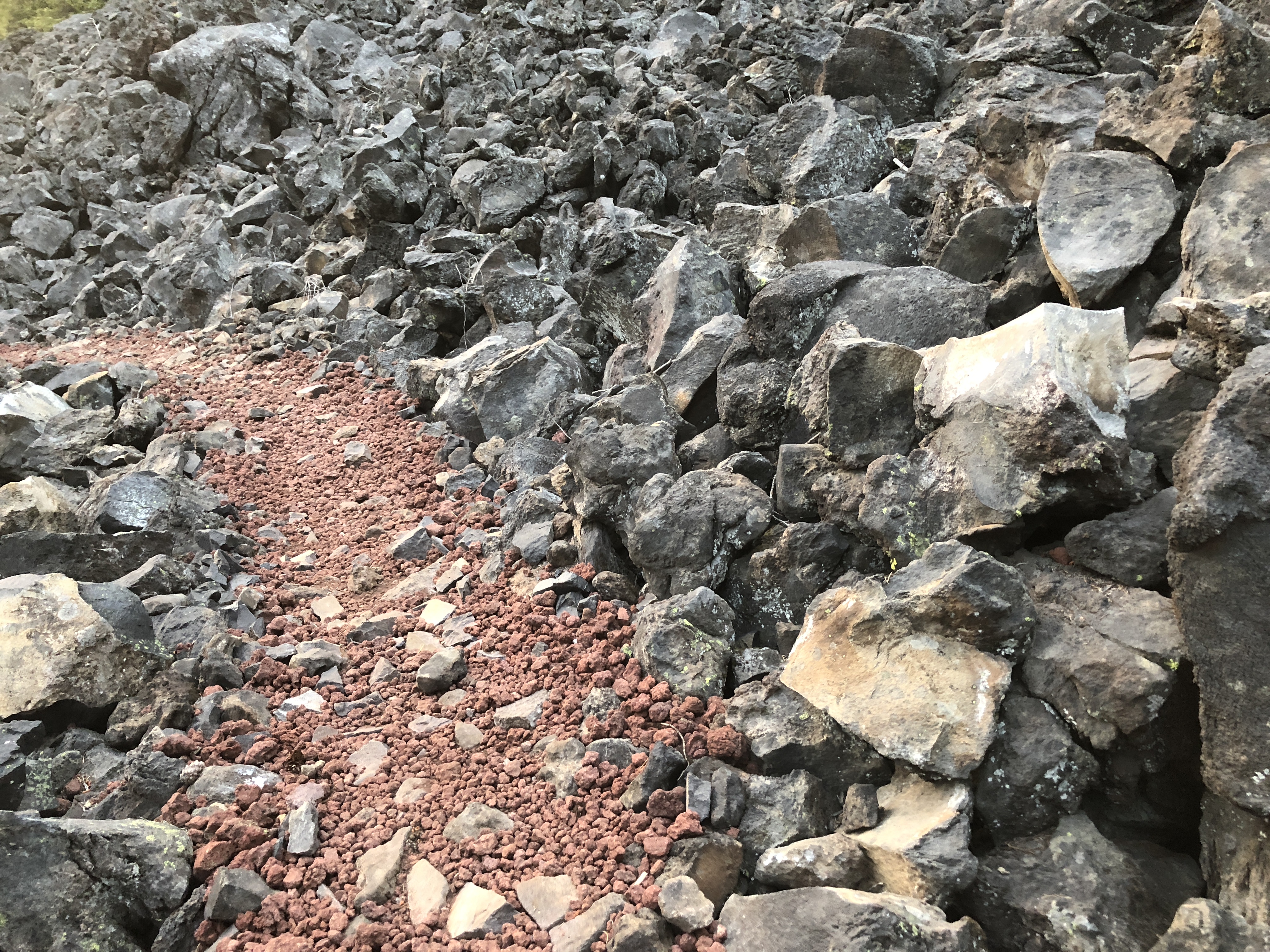 The morning hike led me to a trailhead to Fish Lake. There, I met up with Nono, Karma, Teabags, and Bronco. We decided we were hungry and we went and got breakfast at a resort that was two miles from the trailhead. We thought I'd be an easy hitch, but we were wrong.
Convinced to not make the walk, Nono and I waited it out. We waited for probably 30 or so minutes, then we said we'd give it another 15. In the last five minutes, someone picked us up.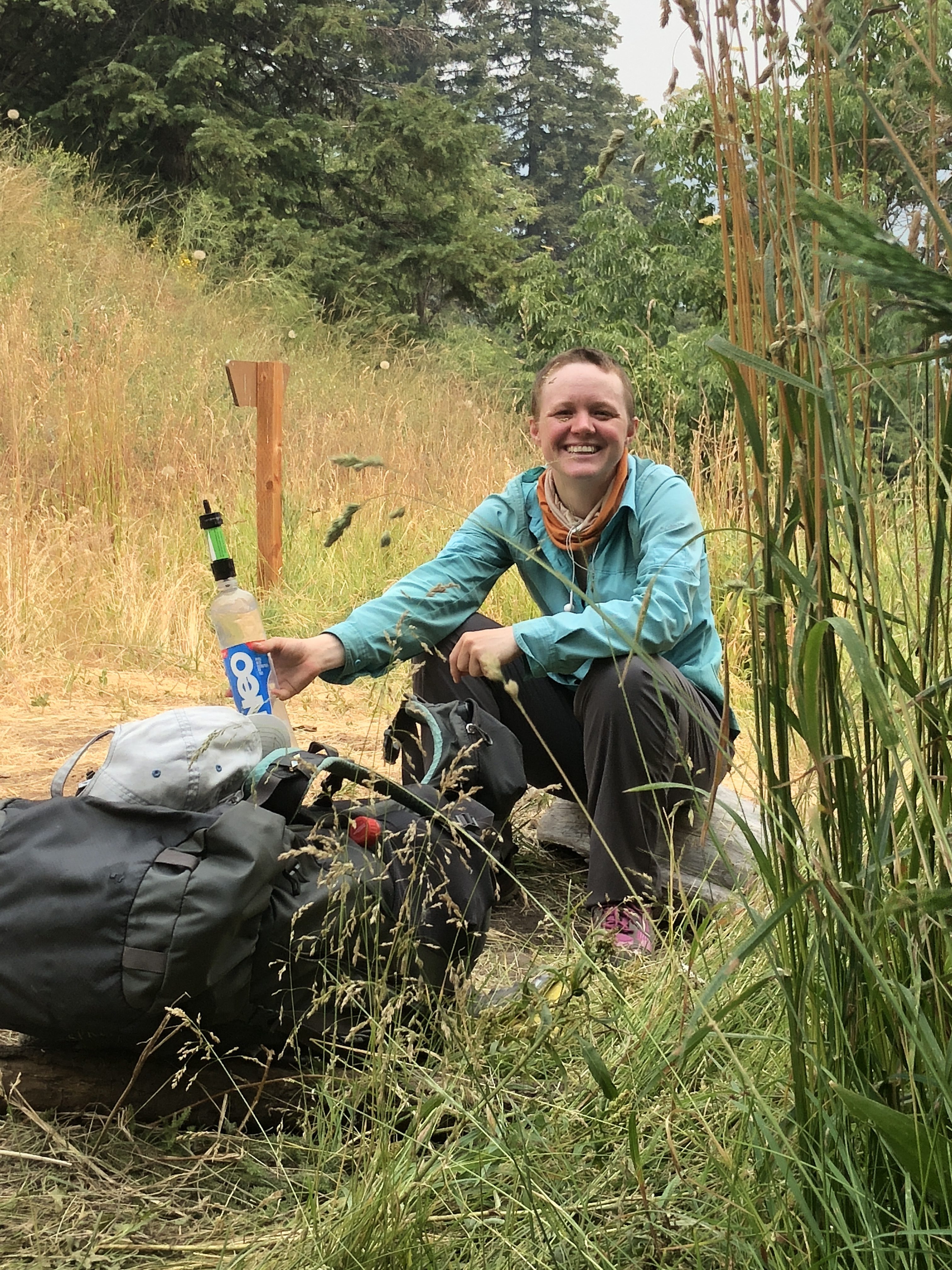 We got to Fish Lake Resort around 10 a.m. I ordered biscuits and gravy, and pancakes with peanut butter and syrup. Carbs with a side of carbs, please.
We hung out there for about an hour, used the facilities, and then we were ready to go. We walked out to the main highway to get a hitch, and after waiting for over an hour we finally decided to start walking. I'm so stubborn sometimes, but I really didn't want to make the walk.
When we got back to trail we had five miles of uphill ahead of us, but being in Oregon the grade was around 300 feet per mile, which is not bad at all. I plugged in my headphones and trudged up the hill. I knew we wouldn't have water for about 12 miles, but I drank plenty at breakfast and carried almost three liters with me. For some reason, when I leave towns, I tend to be super thirsty; maybe it's my choice in food. Those carbs don't do me well, I suppose.
Before I made it to the top of the climb I'd drank two and a half liters. Insane, right? I was dying of thirst for some reason. Which meant I had around one-third of a liter for about seven miles. It was downhill, though, and it was my own fault.
After about four miles my feet began to ache. They were just throbbing and felt like a thousand pounds. I slowed my pace a bit and tried to not step on any rocks. Sometimes I had luck, and sometimes I didn't. With every step I took I thought about the pain I was in. It sucked, and I just wanted to sit down and take a break to elevate my feet, but I was so goddamn thirsty.
I've put almost 900 miles on my Altras, so again it's my fault.
Also on the hike I was experiencing terrible chafe in my, for lack of a better phrase,  crotch pit, and I was dying. The skin was rubbed so damn raw and I couldn't adjust my spandex (I hike in spandex specially to prevent chafe) correctly to negate it from continuing.
As soon as we got to the water source a lot of other hikers were there. As badly as I wanted to sit down I went directly to the stream to quench my thirst.
I couldn't find a spout with ample flow to collect water, so I did what I could, and stepped over some logs to get to an outlet and fill my Sawyer bladder. When I did this, my foot fell in the water, knocking me off balance and landing in the water straight on my ass. I was quite annoyed to say the least. I filled up three liters, drank a whole one, and filled it up again.
Then I went back to the hangout spot. Everyone was eating and chatting, and I barely had the energy to talk. I rubbed my feet, something I spend a lot of time out here doing, and sulked in my sadness of my not-so-good-day.
Before I packed up, I went to go take a poo.
When I stood up and started walking, I realized my shorts were still soaking wet, which seriously intensified the chafe I was dealing with. The amount of pain I was experiencing on my short walk seemed unbearable. Have you ever had chafe from a long day of hiking or from a race and then tried to take a shower? I don't recommend it.
We only had 4.6 miles to camp, but I didn't know what to to do.
I came back to the hangout spot, and remembered I had an extra pair of shorts in my pack. My "town shorts" I'll call them. I prefer them to my hiking shorts, they're cute black Nike shorts with a red liner, but I don't hike in them because when I run in them I get thigh chafe, and I assumed it would be the same hiking. But I didn't have much of a choice. So I slipped them on, and hoped they'd aid the crotch chafe, and not create a new thigh chafe for me to deal with. My god.
My feet were still throbbing with pain and my attitude sucked. I was in a lot of pain, and I was super butthurt about it. Eventually almost everyone left the hangout spot, and it was just me and Karma. She started packing up her things and so did I.
I remembered in this moment what it was like to be out here, to really be out here. A lot of the time it isn't watching sunsets and sharing dinner with a group of hikers you just met. A lot of the time it's super painful, and you have to work with whatever you've got in your backpack. And as much pain as I was in, I knew there wasn't anywhere in the world I'd rather be.
While packing up Karma glanced over at me, and I could just feel the tears welling up inside me, and I didn't hold back. I think only a single tear shed from each eye, but it was such a release.
I knew that my chafe would get better, I knew that I was getting new shoes in just 36 more miles, and I knew that I was OK, and was going to be OK. But dammit, I was in some serious pain and I just needed to let it out.
Karma didn't say much, because after the tears fell I looked at her and said, "It's OK, you know I'm going to be just fine." I'm not even sure she responded, but she walked over to me, wrapped me in her arms for a few seconds, and just reminded me she was there.
Karma and I have hiked together for over 1,000 miles. We've been through so much together. Physical pain, emotional pain, trail navigating, the Sierra last year. You name it. And just to have her there for that moment I had today meant the world to me. I was going to be just fine, and we both knew it. But I was hurting, so I shed a tear, and one of my best friends was there to give me a hug. Today it was the remedy I needed.
Karma eventually hiked on, and I finished packing up my things. I crossed my fingers that the shorts I was wearing would work and I set off for the final miles of the day.
A lot of the time, I listen to music on trail. But this time I didn't. I wanted to hear the sounds of the trail, the flapping of birds wings as they took off, the pattering of my feet on the ground, and the crunching of the rocks below me. I wanted to remember that I was back on the Pacific Crest Trail with all of my senses. I thought a lot in those last miles and I felt a wild sense of gratitude.
I knew that after I got to my campsite I'd dress my wounds the best I could and by tomorrow morning they'd probably be better. And then I'd get to spend the day with some of my favorite people, in the wilderness, supporting and encouraging each other along the way. I got to use the body that I have to hike more miles than a lot of people do in a day, and I got to see the world while I was doing it. Goddamn, I was lucky.
It's so strange how the trail really does provide. Sometimes that gift is in the form of ice cold lemonade from a trail angel providing trail magic. Sometimes it's in the form of finding just what you needed out of a hiker box. And sometimes it's in the form of putting on a pair of shorts you never considered hiking in and them working out better than you could've imagined. And sometimes it's having one of your best friends on trail give you a hug when you'd had a hard day.
I am so grateful.